Our Kids Martial Arts Classes Help Students Build Skills For All Aspects Of Life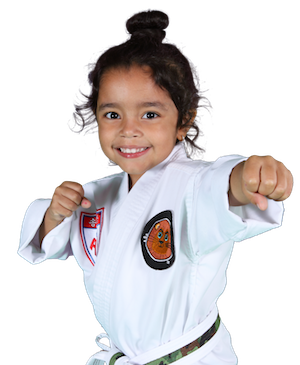 At Park Karate, we are proud to offer high-quality Kids Martial Arts classes all across the Tri-State Area. Join us in Roselle Park today and treat your child to the traditional teachings of Karate in addition to incredible character development that will serve your child for years to come.
We offer two exciting Kids Martial Arts classes to ensure age-specific training for all abilities. Come see us today and take on our Preschool Karate OR Kids Karate classes.
Just fill out the short form on your screen to learn more!
Why Is Our Kids Martial Arts Program Right For Your Child?
We work hard to meet the needs of students all across our community. Our Kids Martial Arts program includes hands-on instruction and an incredible support system. From day one, your child can learn from the best instructors around as they challenge themselves with new skills every week.
At Park Karate in Roselle Park, we are proud to offer:
Pre-School Karate (Ages 4-6): This program is designed to introduce young students to the foundations of balance and body control. We help young kids learn how to focus on one task at a time and learn to communicate well with others. This program includes:
A safe, supportive environment
Fundamental martial arts movements
Incredible social development
Kids Karate (Ages 7-12): Our Kids Karate classes are the perfect way to keep your child active and challenged week in and week out. We offer an exciting belt progression system that keeps students motivated and gives them skills for all aspects of life. Your child can enjoy:
High-energy kicks and punches
Improved coordination and athleticism
A great sense of self-confidence

PLUS, Our Kids Martial Arts Classes Are Setting Your Child Up For Success In All Aspects
Our students love the high-energy fun of our karate instruction. They love challenging their bodies and enjoying the sense of accomplishment that comes with nailing a new skill or technique.
But we know you're interested in so much more than just physical development.
That's why we work hard to help students all across Roselle Park develop the vital skills that will serve them in the classroom, in their social lives, and even into adulthood.
Our Kids Martial Arts classes at Park Karate can help your child:
Learn respect and discipline
Take pride in the learning process
Develop leadership and teamwork skills
Build courage and perseverance
Get Started Today With The Best Kids Martial Arts Classes In Roselle Park!
Give your child the best chance to thrive in everything they do. Our Kids Martial Arts classes at Park Karate are perfect for kids of all ages and experience levels.
Come see us in Roselle Park today or fill out the short form on your screen to learn more!
Our Kids Martial Arts Classes Are Located In
Roselle Park
Bayonne
Scotch Plains